The Billet Industries Process
At Billet, the manufacturing of parts for professional industries is not something we take lightly. As a precision parts manufacturing company, we know that so much depends upon the quality of what we produce.
From aerospace engineers, to marine enthusiasts, to medical professionals, our customers trust us to present them with a final product that they can rely on.
Our detail oriented technicians put great thought and care into the process of every part they design, print, machine, and produce. 
In the end, complete customer satisfaction is always our guarantee. 
Here's how it works…
3D Cad Design & Engineering
At Billet Industries, we build our models with the use of a powerful technology called Solidworks CAD software. 
These designs typically begin with a 2D sketch laying out any points, lines, and arcs on the proposed part. 
From there, dimensions are added to the 2D sketch to finalize specific sizes on the original model. Drawings can also be easily created from existing parts.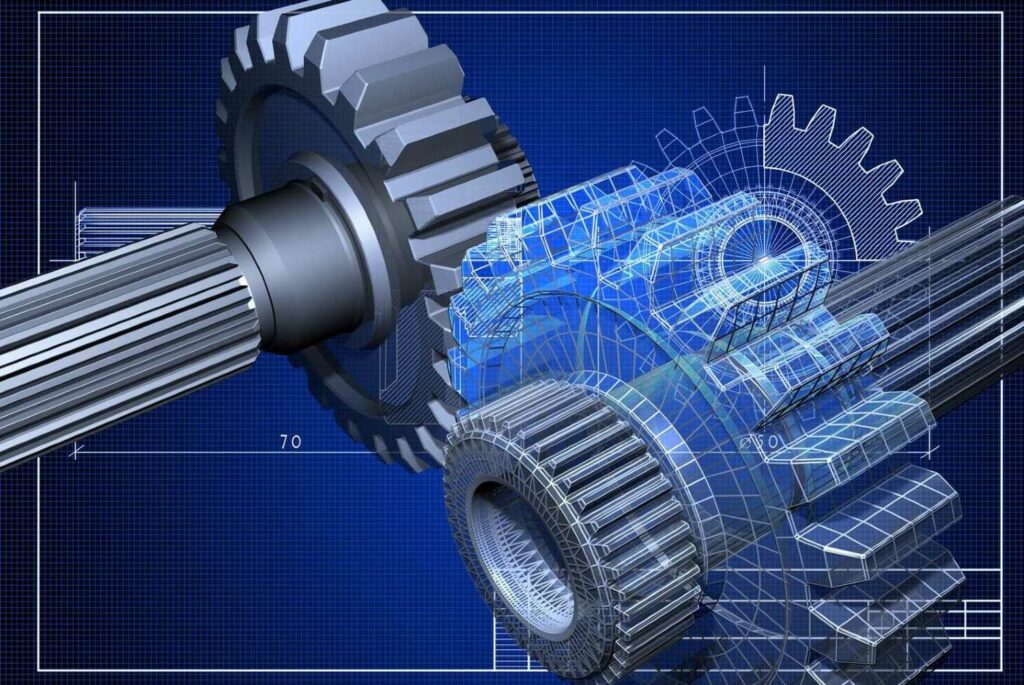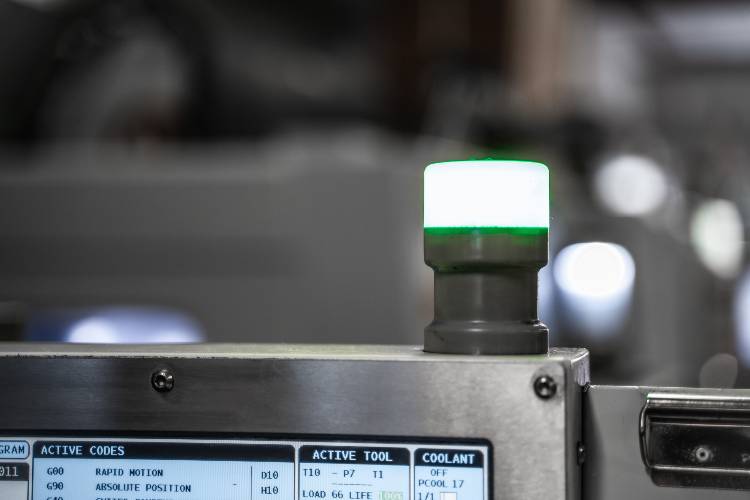 If your part requires 3D printing, once the Solidworks design is troubleshooted for any errors, the actual part is then printed..
When employing 3D printing, your part is typically built in multiple layers using a host of materials like plastic, metals, steel, and even titanium.
If your part employs the use of our CNC machines, our technicians use a combination of cutting, milling, and lathe turning to craft parts to the exact specifications you need. Our CNC machine parts can be crafted by milling, drilling, and turning copper, alloy, stainless steel, and more.
Quality Inspection & First Article
At Billet Industries we believe you deserve quality parts. That's why each and every product we manufacture is held to the highest of quality assurance standards. 

With the use of our ZEISS computerized measuring machines, we are able to produce parts that are virtually free of manufacturing errors. This innovative machinery is programmable and allows us to use 3D solid models directly from our customers to inspect dimensions.

By utilizing both the optical and tactile measuring system capabilities of ZEISS machinery, Billet guarantees consistency, accuracy, and quality that can't be beat.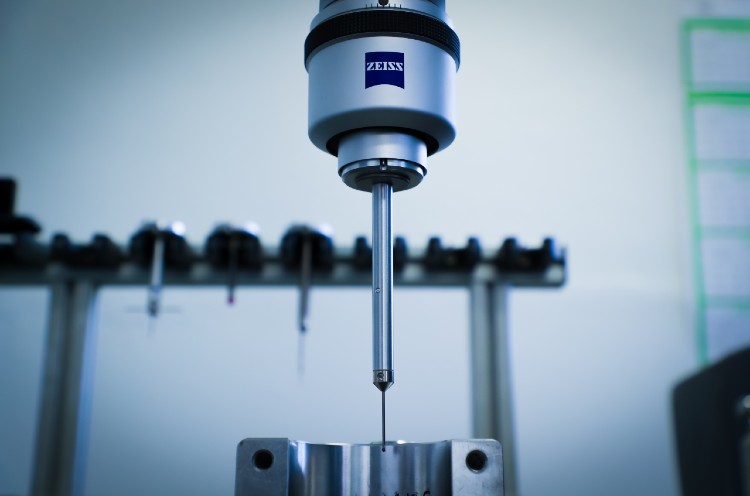 Once your part is created, it's time to finish your product. 
During this phase our technicians use several different applications to ensure quality and make sure your part is ready for use. 
After printing or producing your cnc machine part, it's not uncommon for lines and superficial blemishes to be present. During the finishing phase our technicians use a variety of tactics to smooth out the surface.
Finishing techniques will depend largely on what material your part is made of, but may include…
The use of a rough material to smooth out minor imperfections. Blasting is similar to sanding, and best for hard to reach spots.
Our technicians use special tools to remove any rough or sharp metal edged on your product.
We use this process to convert the surface of your metal part into a durable, corrosion resistant finish.
Depending on your needs, a variety of finishes may be applied to your final product. Powder coating in particular is incredibly durable and our technicians use heat curing to create a flexible and durable finish.
Laser etching is a method of creating marks on parts and products with the use of laser beams. Known for it's high speed and durability, laser etching is a great method for a host of materials from aluminum to lead to steel. Whether you need product numbers etched onto your parts, or you want to laser your logo for branding purposes, Billet Industries can help!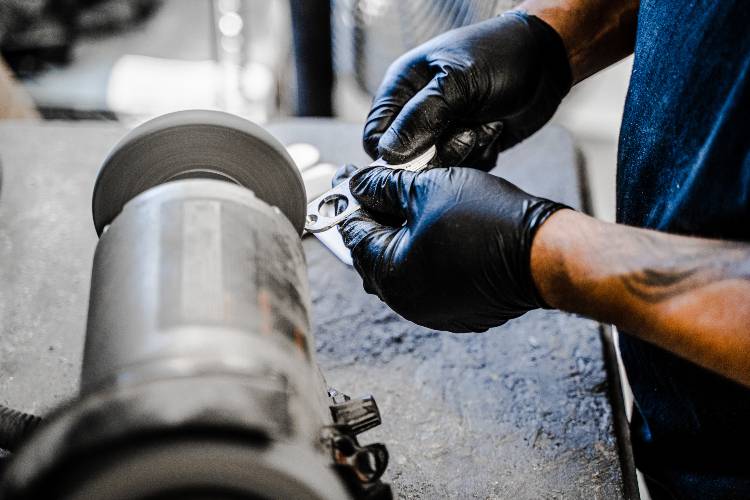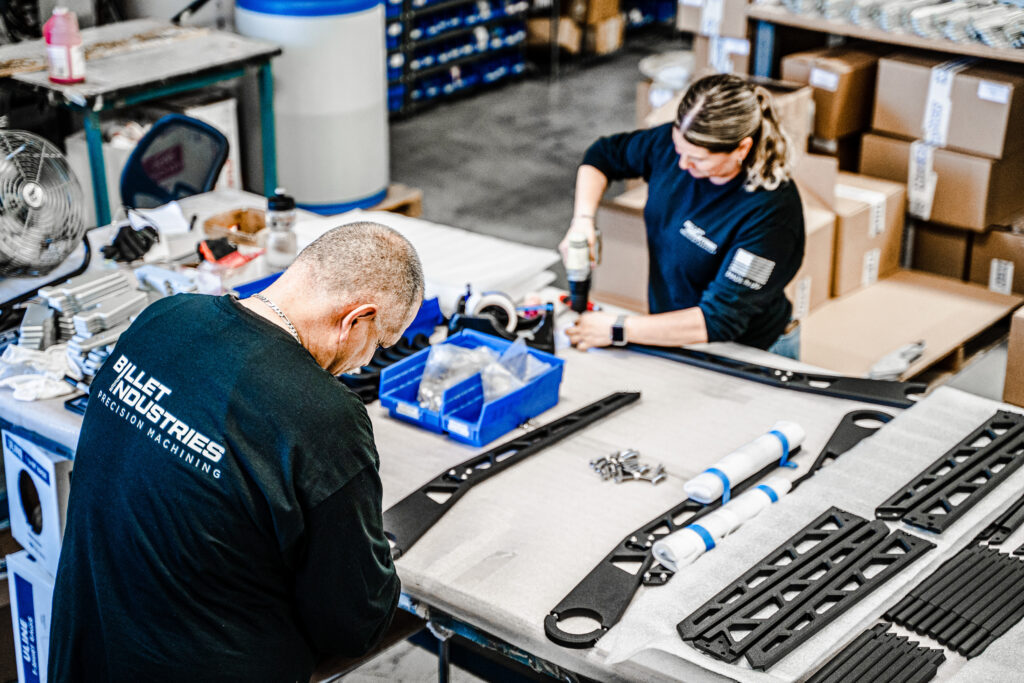 Once your product is complete, our technicians do a final quality check and then either assemble or kit your products so they're ready for delivery!